Recycling our timber products
In our Sustainability mission statement (please see the resources section), we have four key aims in the waste management section:
Seek to prevent waste.
Re-use materials wherever possible.
Recycle materials if re-use is not possible.
Legally and safely dispose of any remaining waste products after all to attempts to remove, re-use or recycle have been explored.
Perhaps the best illustration of these aims being met, is within our pallet manufacturing facility.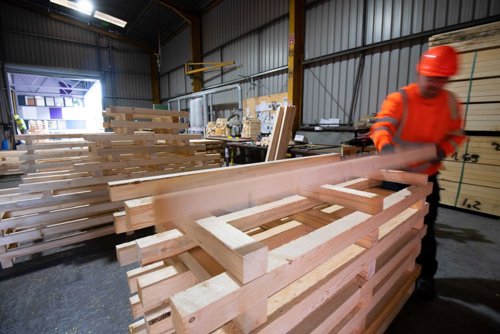 Over the past year, we have put a huge amount of effort into recovering pallets after despatch. Wherever possible, we will collect any pallet that we have supplied, dove-tailing collections with deliveries and returning pallets for re-use. Inevitably, pallets will not go on forever. They may be used 2,3 or 4 times (perhaps more), but eventually they will degrade. The moment that pallets cease to be usable in their entirely, we dissemble, providing re-usable timbers with a fresh lease of life in a new construction.
The remaining timbers will have nails removed and will be set aside to be used creatively, such as a potting table, a bench, a planter or a pond surround for our biodiversity garden, or even a jig or work table in the engineering workshop. Any wood that can't be used creatively will be put to one side for our staff or for local community use (with the cost of living crisis, this proves particularly useful in winter for use in wood burners). If there is anything still left over and definitely unusable, it will be placed in a wood skip and sent for recycling.
Through applying this degree of care, we have cut down our waste wood skips by 84%, saving approximately 20 tonnes of wood per year (and created some impressive objects along the way).